Morning Round-up May 17, 2013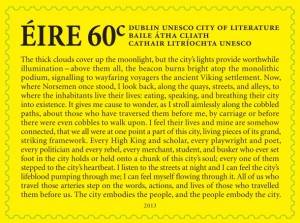 Ireland's newest stamp features an entire short story
IRELAND'S NEWEST STAMP features an entire short story written by a talented Dublin teenager.

The 60c stamp was commissioned to celebrate Dublin's permanent designation as a UNESCO City of Literature in 2010. It was unveiled at Roddy Doyle's Fighting Words Centre earlier today.

Designed by the Stone Twins, two Amsterdam-based Irish designers, the bright yellow rectangle includes all 224 words of Eoin Moore's short story which strives to capture the "essence" of the capital. It was chosen from a host of works completed by participants in Dublin's Fighting Words' creative writing programme.
Read More at TheJournal.ie (link opens in new window)
Daily Rituals: How novelists, painters, philosophers, and filmmakers find time each day to do their work.
 About six years ago, I started collecting any information I could find about the daily routines of writers, artists, and other creative people—­­first for a blog that I ran for a couple of years, and then for a book that, I'm pleased to announce, will be released next Tuesday. It's called Daily Rituals: How Artists Work, and it presents brief profiles of 161 creative minds—among them, novelists, painters, poets, philosophers, filmmakers, and scientists—with a focus on how, exactly, they made the time each day to do their work.
Read More at Slate (link opens in new window)
Using Social Media to Preserve the English Language
Do you think the English language will eventually fade away? Languages today are evolving at a rapid pace, as evidenced by significant changes in usage within the last decade. In fact, entire cultures are merging as the world grows smaller, due in part to the widespread availability of social technologies. Writing is a skilled, vocational trade that specializes in the scholarly domain of words to create entertaining, educational stories for an audience. Grammar, spelling, and structure are the tools by which we impart information to our readers with clear, concise text. Writers have traditionally assumed a creative developmental role in the literary arts, but now we have joined the ranks of educators, businesses and marketing professionals, by using the internet social media platform to promote our craft.
Read More at Lorraine Reguly (link opens in new window)
Opportunities for Writers: June and July 2013
Below is Aerogramme Writers' Studio's regular update of writing competitions, publication opportunities, fellowships and other events for emerging and established writers. For full submission and entry information, please refer to the relevant websites.
Read More at Aerogramme Writer's Studio (link opens in new window)
'Kite Runner' Author on Writing, Afghanistan, and His New Book
Khaled Hosseini first took us on a tumultuous journey to 1970s Afghanistan in the 2003 best-seller The Kite Runner, and followed it up in 2007 with A Thousand Splendid Suns, a novel about two women in Hosseini's homeland. On May 21, his third novel, And the Mountains Echoed, hits store shelves. Unlike his previous works, it jumps across continents, weaving together a tale about love and loss across generations. Here, the author talks about his newest title, his view on writing, and his hopes for Afghanistan with Wajahat Ali, a writer and attorney.
Read More at The Atlantic (link opens in new window)