Challenge Corner #13 – Three Flowers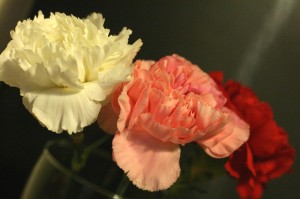 Greetings, from the sunny place that is Britain remembering what summer is! I hope you're all well, and have lovely weather of your own, whichever season you're in. In a suitably sunshine-inspired mood, this week I bring you a challenge based on one of the experiences I associate with summer these days. Read on for fun and flowers!
This time of year, you see a lot of people around my town heading to their exams, because, sadly, university can't be a party forever. And, when they go to their exams, people often wear a flower pinned to their jacket. The colour tells you which exam they're on – their first, their last, or somewhere in between. So this week's challenge is about flowers that tell you things!
– There are three kinds of flower, and each one sends a different message when you wear it.
Remember, as always, you can write any kind of thing for this – short stories, poems, whatever takes your fancy. Will you stick with colours having meanings, or take on a strange and fantastical twist? (Literal talking flowers, anyone?) I love to read what people come up with, so if you post your piece online, please do leave a link in the comments!
And, of course, we have super bonus options, if you feel like you need a bit more of a challenge:
+ Bonus Points: One of these kinds of flower is really dangerous – you'd have to be brave or stupid to wear it.
++ Double Bonus Points: Whose job is it to grow all these flowers? Include something about them in your piece.
Happy writing!
Cadi x