10 Books of Summer 2013 – Wednesday Wake-up Call for The World's Wife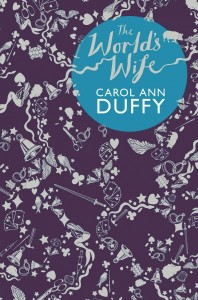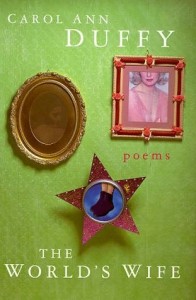 'A melange of history lesson, fairy-tale and modern-day domestic tragedy' — Scotsman
An Introduction
The first thing which struck me about The World's Wife was how much fun it was to read and how it didn't feel like a criticism against men or an attack on male society. That  isn't the way to think about these poems. I approached the collection with the understanding that it was a female reinvention of the history books, and the expectation that the female figures would be strong and wise and even with the slight trepidation that I might find them too unapproachable, but it wasn't like that at all.
'The World's Wife' is a very tongue in cheek representation of powerful women in all their greatness and their flaws. Duffy draws on the wells of history and mythology, giving each story a new spin and a modern touch, with a slither of fairytale magic to balance them out. These aren't the fairy-tales of your childhood, but a darker, more macabre kind, very reminiscent of the Brothers Grimm – if they were female.
Key Questions for Discussion
This 'wake-up call' is leading up to a discussion post on Saturday where you'll all get the chance to say what you liked about the collection and how it made you feel, or even what you didn't like so much. Here are a few questions you may wish to consider as you read the collection and they will act as a brief guide for my own analysis:
1. What impact does the balance of historical and mythological figures have on the collection? Do you feel this reflects the balance between the seriousness and frivolity of Duffy's critique on the role of women in society?
2. Consider how Duffy uses rhyme and rhythm/ the element of sound in the poems, in particular, Mrs Sisyphus. How effective is this in engaging the reader and what other purpose does it serve?
3. Which are your favourite poems in the collection?
Recommendations
If you're short on time and not planning on reading the whole collection, the ones I'd really recommend you to take a look at are: Queen Herod, Mrs Midas, Mrs Sisyphus, Mrs Lazarus, Mrs Icarus and Eurydice.
Cautionary Note and PDF's
Please be aware that many of these poems allude to adult themes of sex and violence and may not be appropriate for younger readers. I have tried to identify below which are suitable for each audience and have provided a link to each poem so you can read along.
Poems suitable for 12+:
Thetis, Queen Herod, Mrs Midas, from Mrs Tiresias, Pilate's Wife, Mrs Darwin, Mrs Sisyphus, Anne Hathaway, Queen Kong (Contains mild adult themes), Medusa, The Devil's Wife (contains some mild sexual references), Circe, Mrs Lazarus, Pygmalion's Bride, Mrs Rip Van Winkle (contains some mild sexual references), Mrs Icarus, Elvis's Twin Sister, Pope Joan, Penelope, Demeter.
Poems for 15+ or parental guidance:
Little Red-Cap (contains sexual references), Mrs Aesop (contains violence and one profanity), Mrs Faust (contains strong language), Delilah (contains sexual references and one profanity), Mrs Quasimodo (contains strong language), Frau Freud (contains strong language), Salome (contains sexual reference and one profanity) Eurydice (contains one profanity), The Kray Sisters (contains sexual references), Mrs Beast (contains sexual references and strong language).