What Else You Should Be Reading: The Rumpus
Welcome to the new Sunday exclusive of "What Else You Should Be Reading". The internet is wide and hard to navigate, but I've found some treasures I'd like to share with you in a feature on Sundays. Come back each week for a broader internet horizon.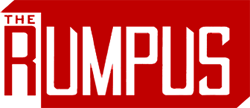 I will tell you the reason I have struggled with internet addiction. It's because it's always, always changing and updating. For a person who doesn't have a group of face-to-face friends, that stimulation is necessary. And yet, I can't shake the reason I don't have a group of face-to-face friends: I want intimacy. I hate small talk, empty social customs, and that getting-to-know-you game. Which is why a site like The Rumpus.net, which has shot to fame on a rocket built of intimacy and quality pieces by active writers is like a medicine for rainy Sunday afternoons.
There are a lot of ways to attack this Chicago-based rocket. I came at it when one of my college teachers mentioned the site and the editor's feature "The Daily Rumpus". She said Stephen Elliot would sit down and write as if he were conversing with a close friend, then send his scatter-shot thoughts to the entire mailing list. These days, that's still going, though it's sometimes more like a Weekly Rumpus. The recommendations and glimpses into someone else's life are worth the subscription.
The next feature that came to my attention was the raw, insightful, and always honest words of Sugar, in the advice column Dear Sugar. You might already be balking. "Advice column? I don't need to know how best to scour my oven in my floral apron before my husband gets home!" This is not that. This is nothing of that. Sugar, who used to write anonymously but revealed herself as Cheryl Strayed before the release of her memoir Wild, takes even the most complicated, hopeless, heart-breaking stories under her wing and transforms them through her own stories, advice, and piercing heart-based intelligence into epiphanies and releases. Don't just take my word for it. Read this article on thinking you might never make it as a good writer (but be warned: expletives lie ahead).
That's not all. The Rumpus hosts an ongoing book club where it sends out a yet-unpublished copy to be explored together on a community forum each month. It publishes reviews of those books and others, twelve column sections in addition to Sugar, important article-essays on topics from art to sex (like this one called Rage), comics for tall tastes, and plenty of author interviews (like this one with my Margret Atwood).
Lastly, if you've a desire for something special in your mailbox, The Rumpus runs two programs where you can receive Letters in the Mail from passionate authors. The second program is especially for kids.
Now, I'm really hoping you've already wandered away from this post by clicking on one of the links above, but if not, at least hop over to look at this fantastic story of a goose in a midlife crisis? An advice essay titled Soul-Sucking Spirit Death? A piece about the loss of the planet Pluto and the lack of sound answers? Will you please just click on this and get out of here?