How should you react to a bad critique?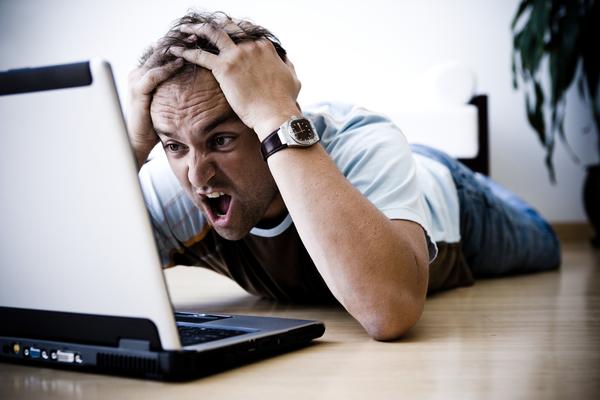 Sharing your work online is tough. You never know how people are going to react, and what you consider to be your best writing may end up being called a mess by others.
Fortunately, that rarely happens. In fact, it's usually the opposite. Most of what people write is at least decent, and a writer tends to be their own toughest critic. But share your work often enough online and you'll inevitably get a bad critique. So how do you respond when this happens?
First, does what the reviewer say make sense? Sometimes, a bad critique will come in the form of, "i didnt rlly understand dis. u shld rite more clearer." Yeah…
But that's an exaggeration. More often, they'll use complete sentences and proper punctuation, which makes it a harder judgment call. Since they're critiquing something you wrote, it's easy to say, "They just didn't get it." And if every other review is positive, it's easy to write it off as, "Clearly, what this one person said doesn't matter since no one else agrees with them." Yet sometimes, that one person is right on the money while everyone else is wrong.
So how can you tell if what the reviewer says makes sense? For example, if they call your dialogue bad, are they right or do they just not recognize good dialogue? Unfortunately, there's no hard and fast way to tell. Instead what you should do is allow the critique some time to soak in.
Allowing yourself some time to absorb a bad critique will allow you to look at it with a more unbiased perspective (bias runs both ways… some writers are more inclined to agree with negative reviews, while others are more inclined to disregard them). That in turn should help you with figuring out whether you agree or not.
So after you've given yourself some time and you've figured out whether the critique makes sense, how do you respond? Publicly, there's really only two ways you should respond: either don't reply or reply with something like, "Thank you for taking the time to review my work. I appreciate it a lot." There are other ways you can reply as well, but the last thing you want to do is argue with the critiquer.
Privately, you should examine those parts of the critique you agree with and take steps to improve those aspects of your writing. Ideally, you should also examine the parts you disagree with as well and see if you can't improve in those areas too. After all, there's no limit to improvement.
Last but not least, though, never ever take a negative critique personally. Just because you get a bad review does not make you a bad writer, and it certainly doesn't make you a bad person! It's tough to separate ourselves from our writing a lot of the time, but if you ever want to do writing professionally (and almost no matter the career you choose, you almost certainly will), it's important to distance yourself a little bit from it. So when you get a bad review, remember the review isn't critiquing the writer but rather what was written. Indeed, almost all of the time, the reviewer in question is trying to help the writer.
On the other hand, if you write just for fun, then continue having fun! Don't worry about what other people say, and instead concentrate on what you like.