Should a student be suspended for posting an incriminating photo of an educator on Facebook?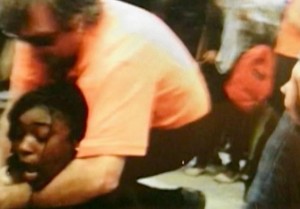 A school has wide authority on how to respond to actions that take place inside the school's premises, but what about outside? If a student posts an incriminating photo of an educator on Facebook, should that student be suspended?
According to a news report, that's evidently what happened to 12 students in a high-school in California. The students posted a photo of the school's principal apparently choking a ninth grader (shown above). According to the principal, he was trying to remove the student from a fight, but she fell while he was trying to do so and she subsequently suffered injuries that now require a neck brace.
A couple things jump to mind here for me. First, I'm not sure I totally trust the reporting on this story. Were the students suspended for posting a photo, or were they suspended for instigating a fight that they planned to start in reaction to the principal's actions? If the former, that strikes me as draconian. If the latter, then a suspension is probably appropriate.
Second, the neck brace seems fabricated. When the injured student was interviewed by a local news station, she remained lying on the couch the entire time, but she was later filmed at the school moving around just fine.
Still, you don't put people in a chokehold. That's just something you don't do unless you're faking it (WWE) or you mean to seriously injure them — the risk of doing serious damage is just too great. Even if the principal's actions were well-intentioned, his actions probably made the situation far worse.
Last but not least, should a school be monitoring the social activity of its students? Shouldn't what is said and posted on Facebook be considered outside of the school's authority?