When Language Changes: Don We Now Our FUN Apparel?
Deck the hall with boughs of holly,
Fa la la la la la la la la.
'Tis the season to be jolly,
Fa la la la la la la la la.
Don we now our gay apparel
Troll the ancient Christmas carol,
Fa la la la la la la la la.
Since at least 1866, this has been the first stanza of Deck The Halls, a popular Christmas carol that dates back to Wales in the 1500s. Recently, though, Hallmark has gotten a fair bit of bad publicity for changing "Don we now our gay apparel" to "Don we now our fun apparel" on a holiday sweater it is selling. Getting beyond the philosophical implications of changing the word, it got me thinking as a writer about how language changes over time.
Although gay has taken on an entirely different meaning in today's world, it was used interchangeably with happy / fun until just the past few decades. It's used in the Flintstone's theme song to mean carefree:
Flintstones. Meet the Flintstones.
They're the modern stone age family.
From the town of Bedrock,
They're a page right out of history.Let's ride with the family down the street.
Through the courtesy of Fred's two feet.When you're with the Flintstones
you'll have a yabba dabba doo time.
A dabba doo time.
You'll have a gay old time.
There was also a movie in 1934 called The Gay Divorcee, starring Fred Astaire and Ginger Rogers, and which was nominated for Best Picture. Obviously, it's not about two men or two women divorcing.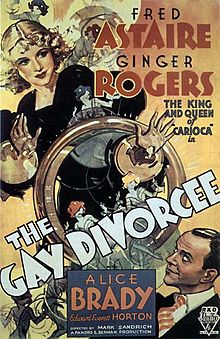 But over time, language changes, and sometimes those changes happen pretty quickly. However, as writers, to what extent should we revise language to reflect those changes? If there was a remake of The Gay Divorcee, should the title be changed? If The Flintstones get a reboot, should the theme song be modified? In both cases, I'd say yes. Although gay is still used today to mean happy and fun, the fact is that when you use it in a sentence, people think of gay in regards to sexual identity.
But in the case of a Christmas carol, should the lyrics be changed at all? You can't reboot or remake a song after all, and plenty of old songs have words that mean something entirely different nowadays. Changing "Don we now our gay apparel" to "Don we now our fun apparel" not only doesn't flow as well when singing it, it just sounds weird. Even if most people no longer use gay to mean fun, I don't think you should reboot traditional songs to reflect modern usage.
After all, you wouldn't change the words in an old book or poem, so why would you change the words in a song?