Effect vs. Affect: What's the difference?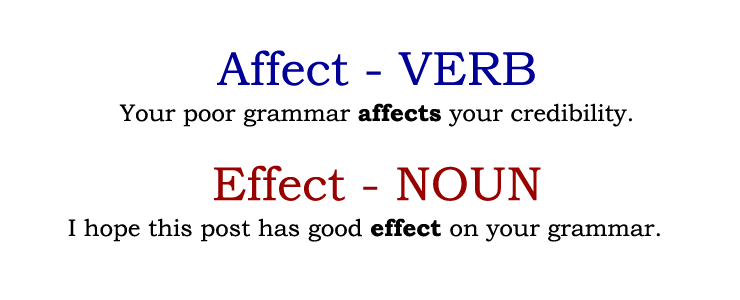 There are lots of commonly misused words, and no doubt they number in the hundreds or even thousands. However, the most commonly misused words I tend to see are "effect" and "affect."
Many times, the easiest way to discern the difference between two words is to take a look at their Latin roots. In this case:
– Effect comes from the Latin verb effectus, meaning performance or to result.
– Affect comes from the Latin verb affectus, meaning influenced or worked upon, and affectus is most commonly used when talking about emotions or feelings.
Make a little more sense now? We use 'effect' when we want to say an action directly brought about a change. We use 'affect' when we want to say an action influenced a change. To effect something is to result in a change; hence, cause and effect. To affect something is to influence it or to make an impression upon it.
Here are some examples:
– Little Timmy Johansen was not affected by the teacher scraping her nails against the blackboard.
– However, it did have a powerful effect on Susie MacIntosh, who tried plugging her ears with erasers to muffle the noise.
Get it?