Challenge Corner #4 – Chocolate
Hello again, Challengers! I hope you had a good time playing with Cerberus last time. There's been radio silence in the comments section so far, but Challenge Corner doesn't believe in deadlines, so I look forward to maybe seeing some canine tails tales at a later date!
This week's challenge has a chocolatey kind of theme – so read on, because it's going to be tasty.
Now, as I type this, I'm devouring a big bag of Maltesers. I'd forgotten about Maltesers, so this is something of a brilliant rediscovery for me. I'm not sure how international Maltesers are, so quickly: Maltesers are little balls of crispy, crunchy stuff, covered in chocolate. Like so: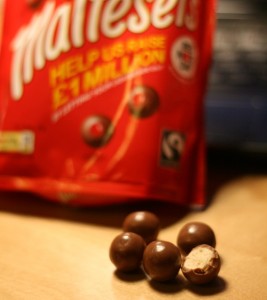 And, as I started eating my chocolatey delights, I remembered a book from my childhood – The Falcon's Malteser, by Anthony Horowitz, which involves Maltesers as a major plot point. I'm not sure how international Anthony Horowitz is, either, but if you get a chance you should definitely check him out! I'm probably going to go reread The Falcon's Malteser once I finish writing this post, but before I can do this, I need to give you a challenge! So here we go:
Write something that revolves around a piece of confectionary.
Whether it's chocolate all over the place, like Charlie and the Chocolate Factory, or just a single sherbet lemon on the table, you need something sweet, and you need it to be important! Other than that, though, you've got free reign. Write a story, write a poem, write a two-hour movie screenplay – go wild.
But wait! What would Challenge Corner be without the super bonus options? For those of you who haven't challenged before, these are completely optional extras to spice up the challenge if you're feeling like you need more of a stretch. And here they are:
+ Bonus Points if the confectionary causes an argument.
++ Double Bonus Points if that argument involves at least four independent parties.
+++ Triple Bonus Points if it's resolved by the confectionary being eaten by the one you least expect.
<3 And of course, lots of love from me if you use Maltesers for your confectionary of choice.
Don't forget to leave a link in the comments if you post your challenge – it's always fun to see what different people make of a prompt! And, most importantly, have fun! I'll see you next week.