The Six: Six Things You Didn't Know About Leo Tolstoy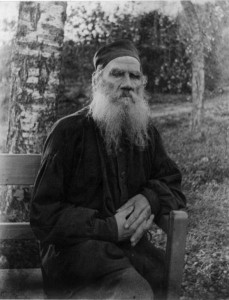 (Author's note: "Writing Gooder" is a blog run by the Young Writers Society and its target audience is teenagers and young college students. Many of these young writers have no idea who Tolstoy was! So we have tried to keep the facts simple and informational. If you know a lot about Tolstoy, congrats! He was a terrific man. You probably know much of this already. If you are looking for facts that are more odd, try my article on Mark Twain. He had some odd traits!: http://www.writinggooder.com/2013/02/263/ )
The Russian great was considered mad by some and a genius by others. He was a radical and a saint. A noble-turned-ascetic wanderer. No wonder so many were fascinated with his life and stories.
6. He was an anarchist.
Not just an anarchist, Tolstoy's reputation is as a Christian anarchist. It was certainly a revolutionary concept in tsarist Russia. As a Christian, he considered it necessary to be a pacifist. He believed the State to be the greatest contributor to war and murder, so therefore the State had to be disregarded.
His ideas later found admirers in such revolutionaries as Mohandas Gandhi and Martin Luther King, Jr.
5. He was watched by the Russian secret police.
Not much of a surprise here, considering we learned that he was anti-government. Yet it wasn't only his confrontation with the secular tsarist government that brought the secret police to reign down on him.
Tolstoy was a Christian and attempted to worship in the Russian Orthodox Church. He was quickly disappointed and contested the authority of the Church. It was at this point that they booted (excommunicated)  him and kept a nice close eye on this modest noble. He managed to stir up both the Church and the State (which he considered pretty much linked anyway).
4. He was a junker.
"A what?" you may ask. A Junker was a Prussian/German landowner and member of the minor nobility who most likely just didn't matter anymore. They were mostly poor and sometimes lost their land, though many tried to make their work as farmers or soldiers.
Tolstoy did both, failing miserably at the everyday management of his farm with all its serf workers. He also followed his brother into the military, seeing action in the Crimean War. Russian junkers were soldiers, and the term (borrowed from German) stuck to designate these low-level noble officers.
3. He gave away his wealth.
Tolstoy had just come off a huge financial hit with Anna Karenina. He started to rake in the cash and was making money like a good Russian noble ought to during that time. And he had done it all through writing.
Except Tolstoy couldn't abide by his Christian values and keep all that money to himself. He gave up most of his fortune, often to local beggars. It drove his wife, Sofya, to rejection. She had gone into their marriage believing she had married a comfortable and wealthy noble only to be subjected to Tolstoy's constant and nearly complete charity. Tolstoy eventually left home to travel and he became a wandering ascetic.
2. Many novelists call him the greatest novelist ever.
War and Peace has over 400,000 words, but that doesn't make Tolstoy the greatest novelist according to some; yet even the most awarded and accomplished novelists call him that. James Joyce looked up to him, Virginia Woolf declared him the greatest novelist ever.
Nabokov, Chekov, Proust, Faulkner all sung his praises. There is hardly a criticism in the novelists' book. And it is Anna Karenina that most of these authors believe to be his best masterpiece, not the sprawling War and Peace that many have come to know him by.
1. He died in a rather poetic fashion.
Tolstoy died of pneumonia at the Astapavo train station. After wandering like the ascetic he was, the author was brought upstairs to die after being treated with morphine and camphor.
Anna Karenina spoiler. He died at a train station where, famously, his character Anna Karenina came to her end. Except Tolstoy didn't throw himself under a train and get run over in gruesome fashion. Still, it's almost fitting that the author and his character were somehow linked in the end.