The Editing Cycle #9 – Strengths and Weaknesses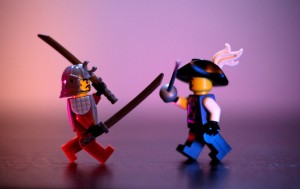 A master swordsman does not choose to fight with a bow, unless he is a fool.
Strengths and Weaknesses
This week I want to know all of your strengths and weaknesses and you're going to tell them to me because my strength is in persuasive writing. Not convinced? Well why don't you think about it while you read the rest of the article.
A novel can be divided into many components, starting with the larger divisions of plot; description and characters and working all the way down to sub divisions such as continuity or narrative tone. Some of these you may be good at and some of them not so good, but it's important to establish your strengths and weaknesses.
If you know what your strengths are, you can bring those into the foreground of your novel and if you know what your weaknesses are, you can reduce the focus on them and set yourself goals for improvement. Avoiding a weakness altogether isn't the answer, but there are creative ways to work around them.
Finding Your Strength
Identifying what you're good at is often a fun and exciting path! Why not experiment by writing a short story which is heavily dependent on dialogue or try creating a poem with a strong focus on rhythm and sound. You can also look at your past writing and evaluate which components of your writing were successful and which were lacking.
If you're still not sure, then write a five page short story and ask a friend what they liked about it and what they didn't like. It's better to ask someone who reads on a regular basis as they will be more familiar with the functions of a story, but anyone with a keen eye can be helpful.
Playing to Your Strength
Once you know your strength, if you want to write to the best of your ability, this should be a key focal point of your novel. If your strength is in writing dialogue, then put your characters into situations where they are going to need to talk to one another to solve their issues. If you make communication the reason they are able to get through a difficult obstacle, that will increase the focal point on your dialogue and take the reader's attention away from areas you may be less skilled in, such as description.
Remember, while everything you write is a learning curve, when you are working on a serious project or preparing a draft for publication, it's important to play to your strengths.
Minimising Your Weakness
After finding our weaknesses, it is tempting to avoid them altogether and to remove them from our novel entirely, but this is not a viable option. Afterall, what is a novel without characters or without action? What is a novel without a grounding in reality? Every component of a novel is important and many impact on one another to build each layer of a novel.
What you can do instead is reduce the level of involvement a component has. If you find characters difficult, there's no need to have more than a small, focal group of three or four characters and a miniature well of background players. Again, three or four might be enough for your whole novel.
Another way to reduce your weaknesses is to work on improving them. Set yourself the task of writing a short story where your weakness is the focal point. Keep everything else simple and concentrate all your effort on pinning down what it is about your weakness you find difficult and what you can do to counteract this.
Discussion Corner
Now you've had some time to think about it, what do you think your strengths and weaknesses are?
I'm a pretty deft hand at writing dialogue and description, but when it comes to layering plot arcs, I start to stumble.
For more from The Editing Cycle click here
*Image owned by stormedclover on Flickr: http://www.flickr.com/photos/stormedclover/5778455227/sizes/z/